Mazes & More
Labyrinths and More is an exemplary labyrinth/maze confuse diversion with fun changes and amazements. Simply swipe your finger and guide the speck through the dividers to discover an exit plan and departure the maze. Negligible 2D designs make it feel like a work of art and retro labyrinth amusement, while new diversion modes keep the experience new (and at times unnerving!). No marker required. We don't explore different avenues regarding mouses or cheddar.
Labyrinths and Progressively KEY Highlights
– Simple play, disregard ungainly tilt controls or inert accelerometer. Superior to utilizing a marker!
– All labyrinths are made by hand, no randomized dimensions
– 6 classifications: Great, Adversaries, Ice Floor, Obscurity, Traps, and Time Preliminary. More will come!
– Riddles extend from simple labyrinths to a lot harder and propelled mazes
– Insignificant and retro 2D designs, disregard entangled 3D labyrinths.
– We don't utilize poor mouses in the mazes nor delicious cheddar is squandered.
Guide the spot through various courses in this free labyrinth experience. Run, investigate and discover an exit plan through the mind boggling dividers. Is there a Minotaur? Complete every one of the 450 mazes and turn into the ruler of the labyrinth. Have a fabulous time :- ) No mouses were harmed amid the making of this diversion.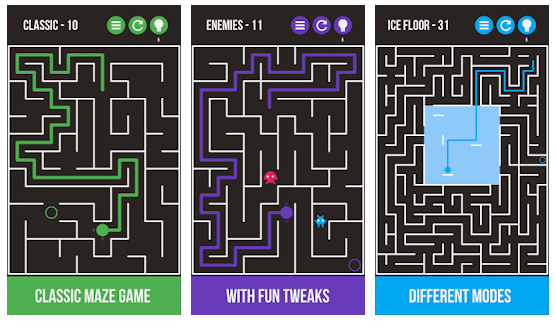 Download Link:
https://play.google.com/store/apps/details?id=com.leodesol.games.classic.maze.labyrinth